Biofreeze Pa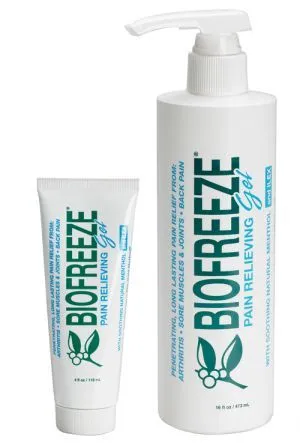 in Relieving products are the most widely-used and confidently- recommended products by hands-on health professionals for over 15 years. It is the pain reliever of choice for chiropractors, podiatrists, physical therapists, occupational therapists, massage therapists and athletic trainers.

Performance Health is excited to announce the launch of our newly reformulated Pain Relieving Spray. The new Spray is specially formulated with natural menthol, MSM, Ilex and a new blend of botanical ingredients, Arnica, Calendula, Chamomile, Echinacea, Juniper Berry, and White Tea. This new formula provides improved performance and longer lasting pain relief for those hard-to-reach areas, such as the middle back and lower extremities.

Biofreeze Pain Reliever offers temporary relief of minor aches and pains related to:

· Back, Shoulder, and Neck strains

· Ankle, Knee, Hip and Elbow joint discomfort

· Muscle sprains and strains


And temporary relief from pain associated with:

· Arthritis

· Bursitis

· Diabetic neuropathy

· Plantar Fasciitis

· Tendonitis
You can purchase Biofreeze at Platinum Chiropractic!